In about a month's time, Robert Pattinson has gone from zero to hero as the Twilight actor is looking pretty jacked for his role in The Batman.
It was reported by Grace Randolph that Robert Pattinson needed a few more weeks to put on the right amount of weight as reportedly Pattinson was having trouble bulking up, which was said to have caused a delay in production.
However, it seems all that Robert Pattinson needed to become the hero we all need and deserve is a few weeks as an image posted to Twitter reveals Robert Pattinson looking as if he has definitely bulked up for the role of DC's new Dark Knight.
About a month ago, Robert Pattinson was spotted out in the wild at the Dior Homme fashion show, but he was wearing a heavier leather coat, so it was hard to gauge his frame.
An image did surface at the same time of the 33-year-old actor in a t-shirt where he still looked rather skinny, but from the look of this new image (assuming it's legit), Robert Pattinson managed to bulk up in a short time frame.
The recent set pics did have me wondering how Pattinson is going to look in regards to putting on the muscle, as the stunt double looked like a rather big dude, but again, this pic here makes Robert Pattinson out to be pretty jacked, so apparently no worries.
Hopefully, we'll get a better look once Pattinson is spotted filming on set.
Check out the images below for a comparison between the month's time frame where it looks like Pattinson went on "whatever diet" Dwayne Johnson must be following, eh?
"I'm Batman!" – indeed!
Robert Pattinson jacked for The Batman:
Robert Pattinson from a month ago (mid-January):
The Batman Batsuit (Robert Pattinson stunt double):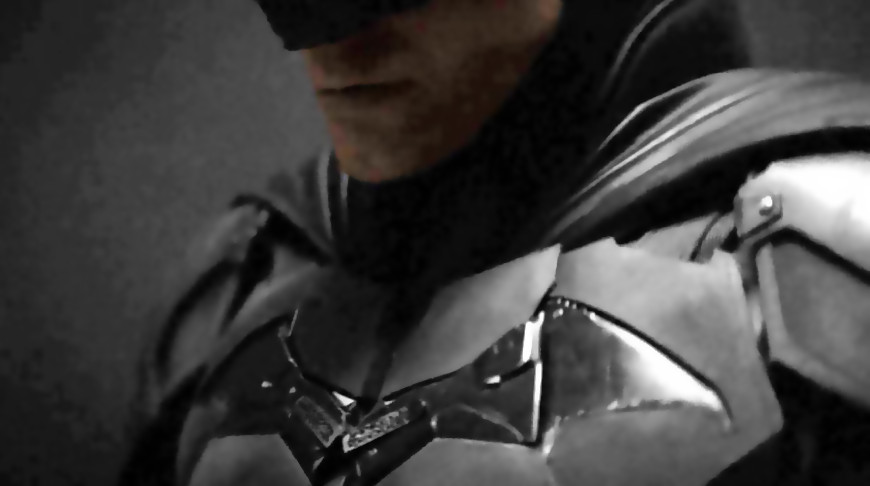 The Batman has a June 25, 2021 release directed by Matt Reeves starring Robert Pattinson as Gotham City's vigilante detective, Batman, and billionaire Bruce Wayne.
Starring alongside Pattinson as Gotham's famous and infamous cast of characters are Zoë Kravitz as Selina Kyle; Paul Dano as Edward Nashton; Jeffrey Wright as the GCPD's James Gordon; John Turturro as Carmine Falcone; Peter Sarsgaard as Gotham D.A. Gil Colson; Jayme Lawson as mayoral candidate Bella Reál; with Andy Serkis as Alfred; and Colin Farrell as Oswald Cobblepot.